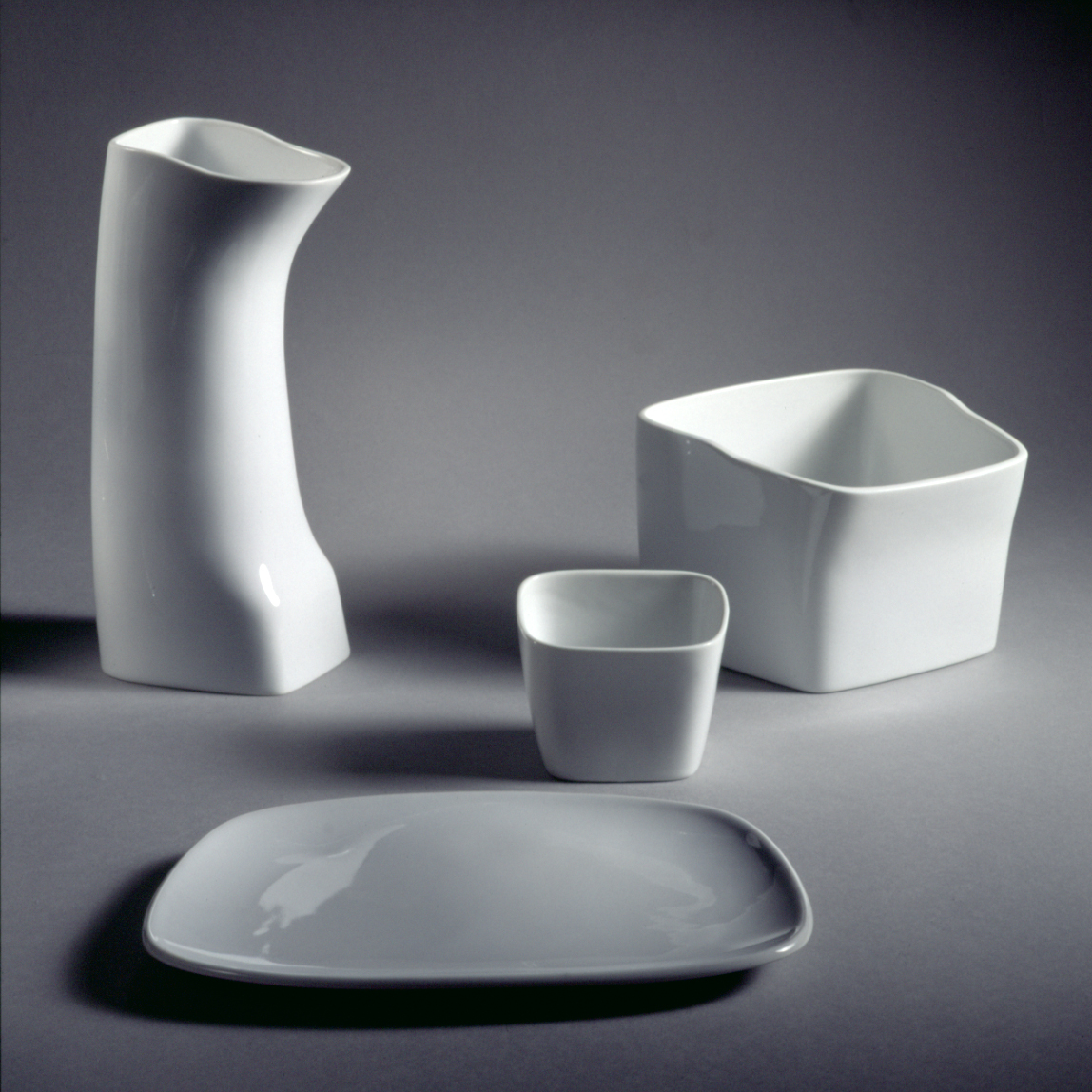 Udgangspunktet for arbejdet med spisestellet er den situation der gør sig gældende i dag, med en global gastronomisk udveksling og ændrede levemønstre, hvor vores madkultur har mistet sin traditionelle platform: tiden, stedet, indholdet og omfanget for måltidet ligger ikke længere fast. Jeg har tilstræbt at finde en formgivning som fornyer det vi kender, men som stadig virker bekendt (fortroligt), og hvor anvendelsesmulighederne er klare og fleksible.
Formundersøgelserne, der ligger til grund for udviklingen af stellet, er meget basale og formelle: hvordan en flade løftes op fra underlaget, rum skabes ved foldninger, og kurver varierer fladens vandrette udstrækning.
Stellet består af få dele, hver med sin egen væsenskarakter, men alligevel bekendende sig til en formmæssig fællesnævner, og med så enkel en udformning, at det er maden der har hovedrollen i en anvendelsessituation.
Ved at lade formen anvise funktionen i lige så høj grad som konventionen, får delene mere end én enkelt bestemmelse. Og stilmæssigt er sushi ikke mere fremmed på tallerkenen end frikadeller.
Tallerkenens skrå flade fjerner den på en enkel måde fra den traditionelle vandrette tallerken, og giver formen en stille dynamik. Denne forhøjning midt på spisefladen har til hensigt er at løfte maden op, at række anretningen mod den spisende. Formen medvirker desuden til at holde måltidets dele adskilte, så man ikke får sovs i salaten o.s.v.
Tingenes form har alle en blødhed som jeg synes passer til madens og kroppens blødhed. Formgivningen skal tilgodese den sårbarhed og intimitet der er i at indtage mad og drikke.
Stellet er ikke i produktion.
---
"The Dinnerset for the Future"
Freelance design for Royal Copenhagen.
In a time of global gastronomical exchange and altered modes of living, food culture has lost its traditional platform: time, place, content and dimension of meals are no longer fixed.
We manifest our identity largely by our consumer choices.
These new needs combine to demand character and flexibility of a dinner service.
I have endeavoured to devise a shape renewal by ignoring the traditional frame of meaning, by purifying my own habitual understanding of what a dinner service is, and thereby creating a spacious framework in which the pieces can precipitate, for the first time, on their own substance and shape stipulations.
The experiments in shape that form the basis for developing the service are intensely basic and formal: how a surface is lifted from the underlay, space created by folding, and curves varying the horizontal extension of the surface. The oblique plate surface constitutes the starting point of the basic shape of the service. The slanted curve graduation removes it in quite simple fashion from the traditional horizontal plate, endowing it with quiet dynamism. At the same time, the idea of raising is to lift the food, to present the dish to the diner.
The service is of few pieces, each with its own essential character, but yet confessing a common denominator in shape and of such simple design that the food plays the lead in the application situation. Each piece allows several applications. By using a new idiom, the individual pieces are not confined to the single function that convention would otherwise consign them; the plate can take the role of a dish, the cup a bowl, and so on.
The service pieces acquire their identity just as much from their concrete shape, as from their function. Shape denotes application potential. The most essential is the immediate physical presence.
The dinnerset is not in production.